Hello~~~

Well, first of all,,,My daughter could wear the clothes that I wrote before~!
hehe:)This is the photo.So I didn't remake at all! American apparel is so lovely,I hope Carter's comes to my town:)!Because our town has a lot of children,we don't have the word "a decline in the number of births" here.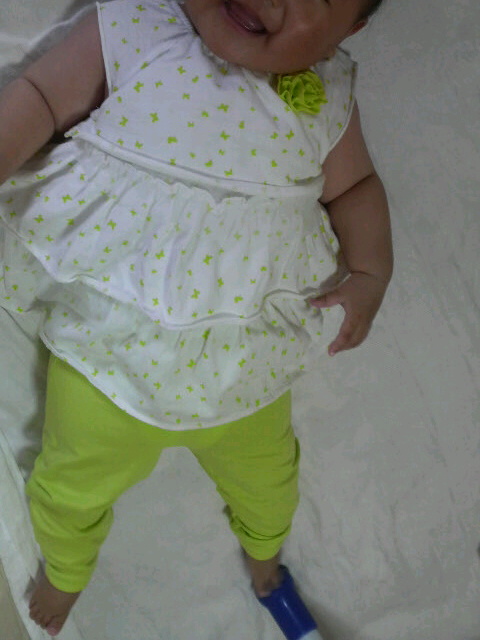 And,,,today I went to buy some vegetables at a direct sales depot by 15minuets walk.Because my fridge was almost empty....I love the store.Fukaya city has a lot of high quality farmers.so vegetables are very good.and I can know the producer and choose my favorites.They were only 1500yen,today:)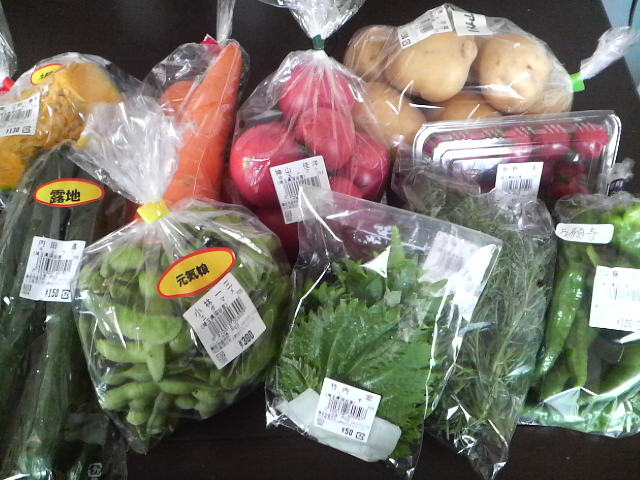 Especially ,the cherry tomato is so sweet,and the pumpkin is like a roasted sweet potato.and the green soybeans're popular in this season.Today's Potato variety is "Kita akari". iit is my favorite and good for a potato sald more than "May Queen" .Summer is nice for vegetables~~~

Good shopping!
Recently I got some nice gifts from my friend and my father-in-law:)

This is from American friend.She gave Yuko new Carter's clothes! you know I Love Carter's!
I can't get the apparel stuffs near my house.so if I wanna get them, have to go to Koshigaya Lake town or Costco.
Unfortunately the top wear was a little tight...because of her big head and piggy in the arms.the size is 12m although she's 6m old. I'm shocked,and really wanna dress her,so I try to remake as soon as possible.after the remake, I would upload the image:)



This is from America and Brasil by my father-in -law,and from costco by my bro-in-law.
He went to Washington, DC and Brasil @ his work,and got some souvenirs for all his family.for me,a lovely moon pendant.for my daughter,the pink first lady T-shirt.for My husband,a ball-point pen.and 2 boxes of chocolate he got.you know I am a chocolateholic!!Then my bro-in-law gave us a 1kg truffles.wow,everyone hope I should be a piggy mom,right?.lol! now I'm really happy with the chocolate's mountain!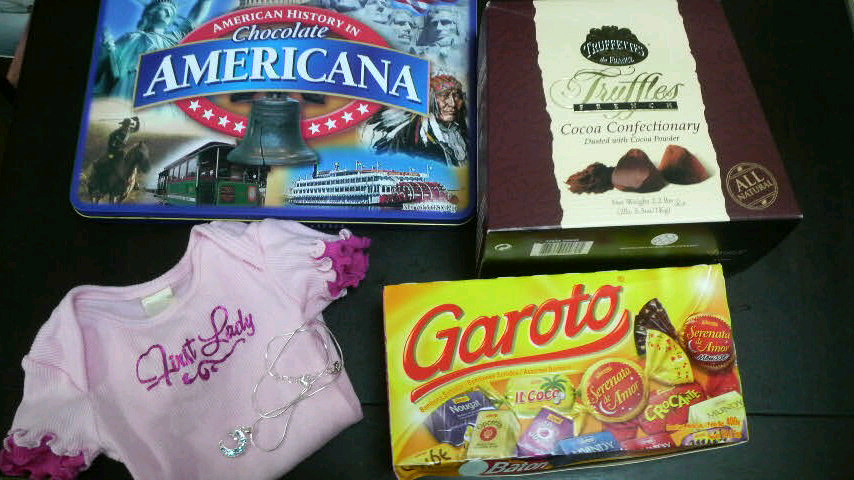 now I'm thinking I want to write my blog in English because I have no opportunity to speak and write the language for a long time.
My daughter is fine!... really I wanted to say it.
now she has diarrhea.already past for a week.
her nappy rash was terrible last week:( now it's getting better so I don't worry about it though.
however She hasn't had vaccinations against some disease yet.Pneumococcal Conjugate Vaccine,Hib,DPT,they are that she has to have.phew... people say usually babies loose immunity from germ,microbe after 5 or 6months since they arrived.this data is true...I really hope she could have all vaccinations within their time limits.