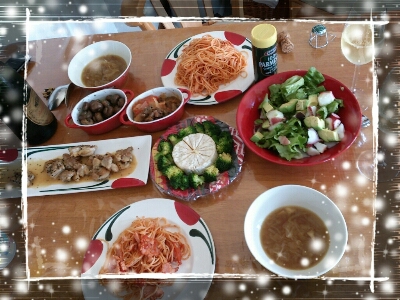 A lunch with my friend who lives near my house. I made *mashroom with garlic,*stir fried beef,onion and tomato with oregano.then,*cheese and broccoli.she made *bacon and tomato pasta,*onion soup and *grilled chicken,*avocado and octopus salad.
Then We each prepared for a bottle of wine. At that time,we have forgotten that we're mama.Good time with alcohol!!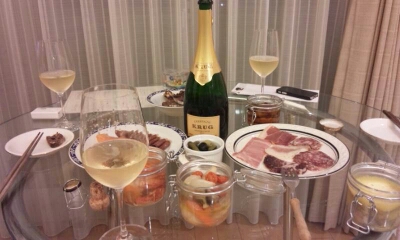 I want to have such a eating life again~. If my husband could drink wine,i had the nice holiday in my house! my older friend sent me the snap!I envy you!hehe:)
recently i bought 3 and a gift alcohols. 2small bottles of Sake made in Saitama.Amaretto,this is for making tiramisu.then a bottle of sparkling wine is to drink with my mama friend.we will have a wine lunch time @ her house soon.now thinking the lunch dishes.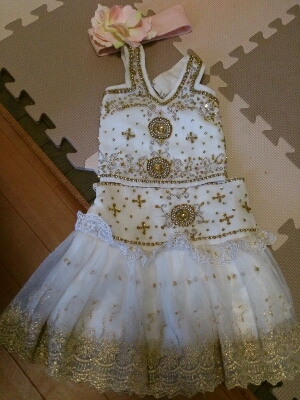 This is an amazing baby dress made in India.my friend who is an Indian lent my daughter it to wear @ her daughters birthday party. she wore nice sari,and her mother and brothers came from India for the party. handmade indian dishes(4kinds of currys,chicken,snacks) was very delicious! I like to go to indian restaurant,but I love these dishes more than the restaurants.the restaurants taste is for japanese. so it is more salty.
the party ,about 30 indian people were invited and japanese were only 6. I felt i was in India then.
anyway,,,I couldnt take pics because my daughter had some accidents .I will make her to wear it again and take the snaps.really beautiful and gorgeous dress!!Ive never seen that wonderful dress in japan!